Even though it has been around for more than a decade, live streaming has recently become mainstream and almost every social media platform comes with a live streaming option. Between YouTube, Twitch, Facebook and even LinkedIn, there are many options for live streaming. 
Content creators and businesses are generally free to use as many of these platforms as they want. In fact, many choose to stream to more than one platform because they can reach more people and risk losing out on millions of potential viewers by streaming to just YouTube or Facebook.
Creators struggle to grow an engaging audience equally across these platforms due to one limitation. They can't stream to multiple destinations at the same time natively. If they can only stream live video to one network at a time, they have two options:
Focus on one platform over another to host the live session and then publish a recording on every other platform they use.

Host a separate live stream for each platform.
It is a choice between sacrificing a huge amount of time and energy or failing to reach their audience in the most engaging way possible. The solution to this problem is multistreaming.
What is multistreaming?
Multistreaming is going live to multiple platforms simultaneously. It is very similar to regular streaming. The only difference is that you're streaming to multiple content networks like YouTube and Facebook at the same time. Content creators only have to stream once and simulcast their content on multiple networks. You just need to have an account with each platform. Then you click one button and our servers take care of everything. 
What are the benefits of multistreaming?
Before creators were able to multistream, each network meant another dedicated broadcast. If you were on three platforms, that meant repeating the same broadcast three times. 
When creators multistream, they no longer have that issue. Other than the obvious benefit of reaching a wider audience with less effort, there are other less obvious benefits.
Increased reach.

The more platforms you are on, the more people see you. Multistreaming maximizes your chances of getting discovered by new audiences. You no longer have to choose between mainstream and niche platforms since you can use both at the same time.

Reduced time and effort.

With multistreaming, you can avoid broadcasting the same session many times. It's also more efficient than downloading and re-uploading your content to other platforms.

Insights about your audience.

Multistreaming makes it easy to compare how your content performs on different platforms. If your content performs better on Facebook and LinkedIn than YouTube and Twitch, you can focus on those platforms instead. Test and explore new emerging networks together with your audience.

Meet your audience where they are.

Rather than trying to steer your audience to a specific destination, you can go live on their preferred platform. Reduce the friction it takes for your audience to access your content.
Multistreaming allows content creators to focus on their true passion — creating.
How to multistream
For someone already used to streaming content, going live on multiple sites is not that difficult. To start multistreaming, creators need to know the platforms they are using and the multistreaming solution they plan to use.
Creating content for regular streaming and multistreaming is the same. The same content does need to be fed into the solution that will then stream the content to several platforms at the same time.
To multistream, creators need to:
Set up accounts on platforms that support streaming

Pick the multistreaming solution

Set up the multistreaming solution

Go live to multiple platforms
Platforms that support streaming
There are many different platforms. With us you can stream to YouTube, Facebook, Twitch, or a custom RTMP.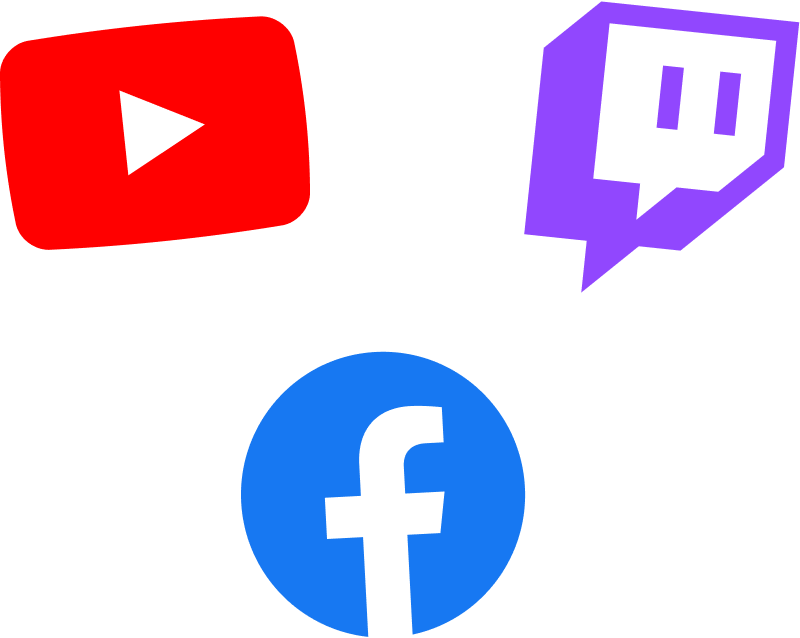 Here are some options for choosing which platforms for multistreaming:
Stream to the platforms where you already have a large following.

Skip the guesswork and focus on increasing your follower base with multistreaming.

Cover only the big platforms like Facebook Live and YouTube.

By focusing your energy on these mainstream networks, you get the biggest bang for your buck.

Choose 1-2 big ones plus a niche or emerging platform.

This is perfect for when you want to diversify your audience and take advantage of being one of the first creators.
Remember that it takes time to develop a follower base on these platforms. While you are able to stream to as many platforms as you wish, avoid wasting time and energy on those that do not suit your brand or achieve your goals.
Multistreaming solutions
There are several types of multistreaming solutions available to content creators. Which one you choose depends on your goals and resources.
Hardware encoders with multistreaming capabilities.

Hardware encoders like Pearl-2 and Pearl Mini are capable of streaming to many destinations. This is the most reliable option since the hardware does all the heavy lifting when processing your live stream. However, it can be very expensive and the quality of your stream depends on your internet bandwidth.
Multistreaming software.

Streaming software such as Wirecast and vMix allow users to stream to multiple destinations. However, the more streaming platforms you stream to, the more processing power and upload speed required. Each additional stream will take up more CPU and bandwidth. This means that it can be very demanding on your hardware and your internet bandwidth affects the quality of the stream. It is less reliable than hardware encoders.
Cloud-based multistream solutions.

For those new to multistreaming, cloud-based solutions such as Streamlabs and

Melon

can be the most cost-efficient. Since the cloud platform handles all the processing, there is no bandwidth or hardware requirements for the creators. Multistreaming with cloud-based platforms is no more demanding than streaming to one platform. They are also easy to set up and use.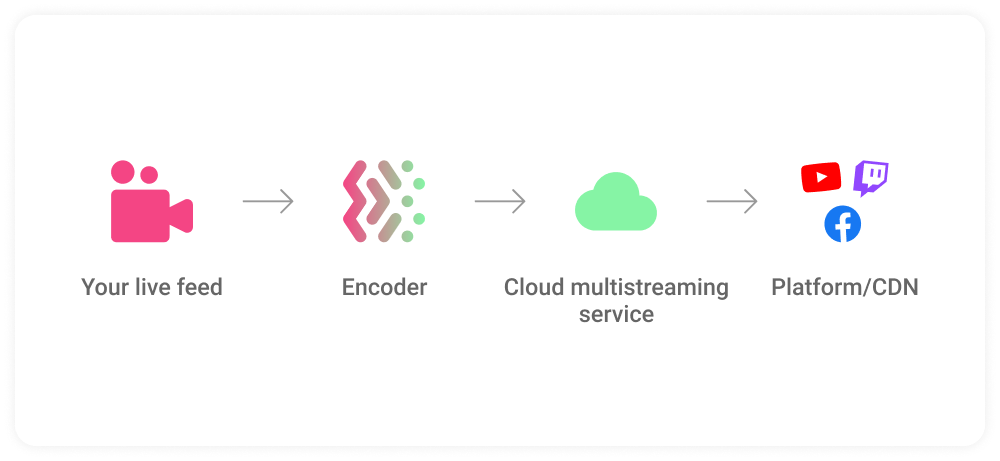 How to multistream in Streamlabs Desktop
Because we built this Multistream feature from the ground up, we've designed it to be as streamlined and straightforward as possible. 
Step 1: Open Streamlabs Desktop and click on the settings cog. 
Step 2: Open your Stream settings
Step 3: Add a stream destination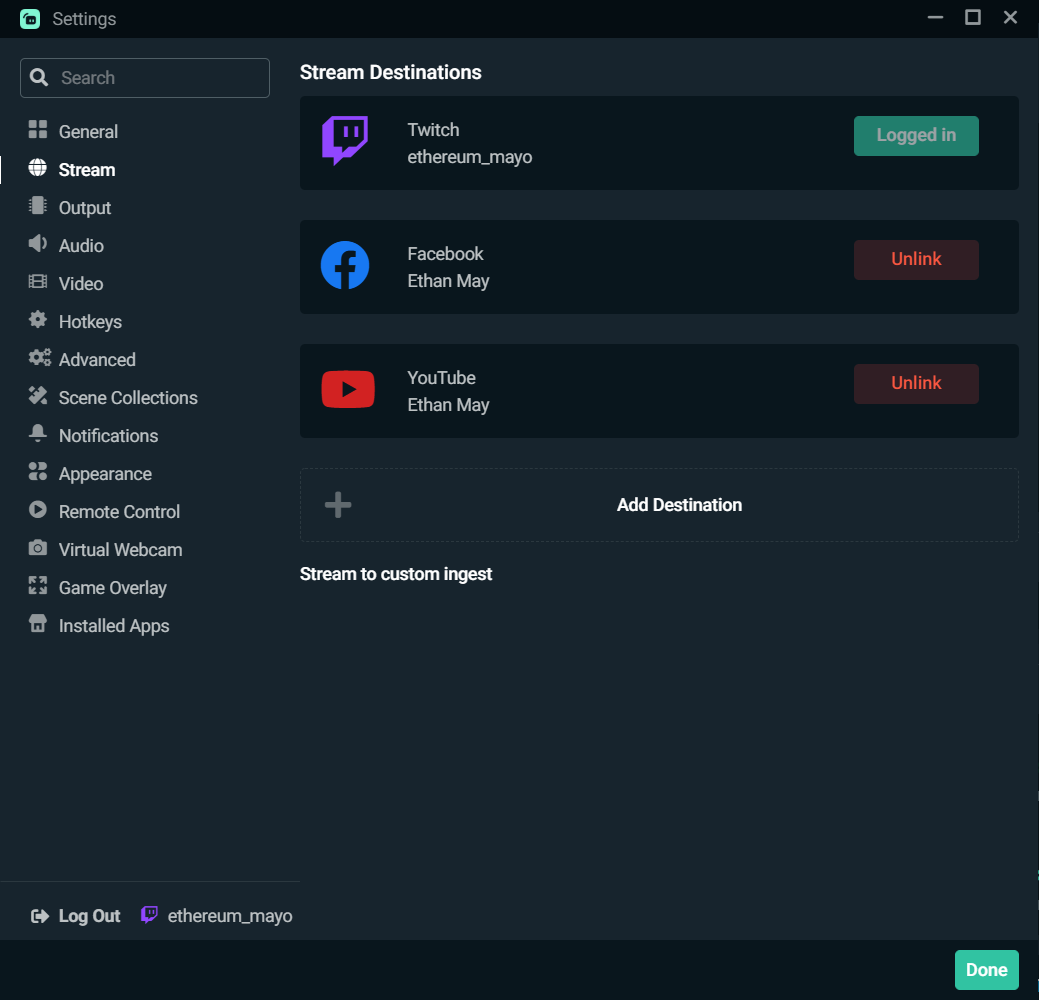 Step 4: Update your stream info. After linking your accounts, press the "Go Live" button to bring up the "Go Live" window. From here, you'll be able to toggle which platforms you'd like to stream to.

The title and description you choose here will reflect across all streaming platforms (please note that Twitch does not have a description and will not display on your Twitch stream). The game category needs to be selected individually because each platform has a unique game library.
How to Multistream with Melon
Looking for a multistreaming solution that's browser based? Check out Melon. Melon is a web-based live streaming app that enables creators to go live with ease with the tools they already have. With Melon, all you need is a webcam, a Melon account, and a web browser to multistream within minutes.
To live stream from Melon, visit the website and create an account if you haven't already. After you create an account, you will be in "Studio" mode. From the Studio, you can control every aspect of your live stream, including going love, adding guests to your show, adjusting layouts, etc.
To multistream, perform the following steps:
Step 1: Hover over your profile icon and click "Settings."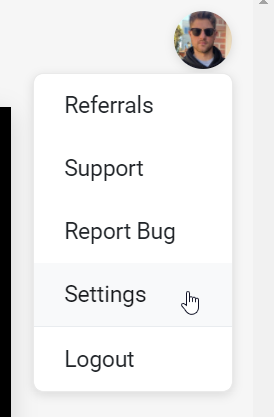 Step 2: In the "Platforms" section, link your accounts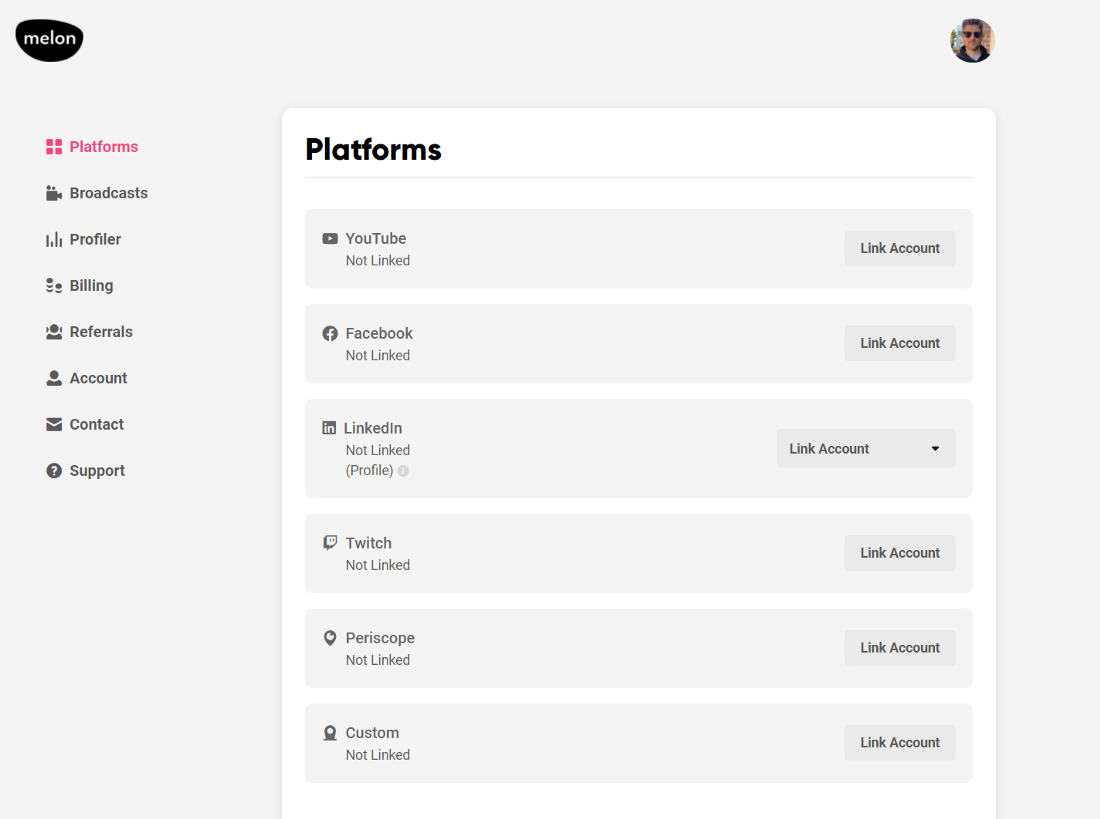 Step 3: Go back to the Studio and click "Go Live"

Step 4: Select which platform you'd like to live stream to
Step 5: Confirm and go live and you are ready to multistream!
Conclusion
The answer to why creators should multistream should be pretty obvious. Creators are most likely concerned with "how" and "where" they can start multistreaming. With Streamlabs Desktop and Melon, you can stream anywhere you want with the most basic setup in minutes.