As of this moment, Streamlabs OBS is only able to receive an external NDI stream as a source. So you need another program or application that is capable of sending out an NDI stream on your local network.
Install NewTek NDI SDK 3
To get started with NDI streams and sources you'll need to have the NewTek NDI SDK 3 installed on the computer on which you want to use Streamlabs OBS to receive an NDI stream or on the computer you are using an application to create and send an NDI stream. After installing the SDK, be sure to reboot your computer.
Receive NDI stream with Streamlabs OBS
Once your local network contains one or more NDI streams you can add them as a source in Streamlabs OBS. Simply click the + icon above the sources to add a new source and select NDI Source. In the properties of the NDI source, select which NDI stream you want to receive and display. Active NDI streams on your local network are automatically detected.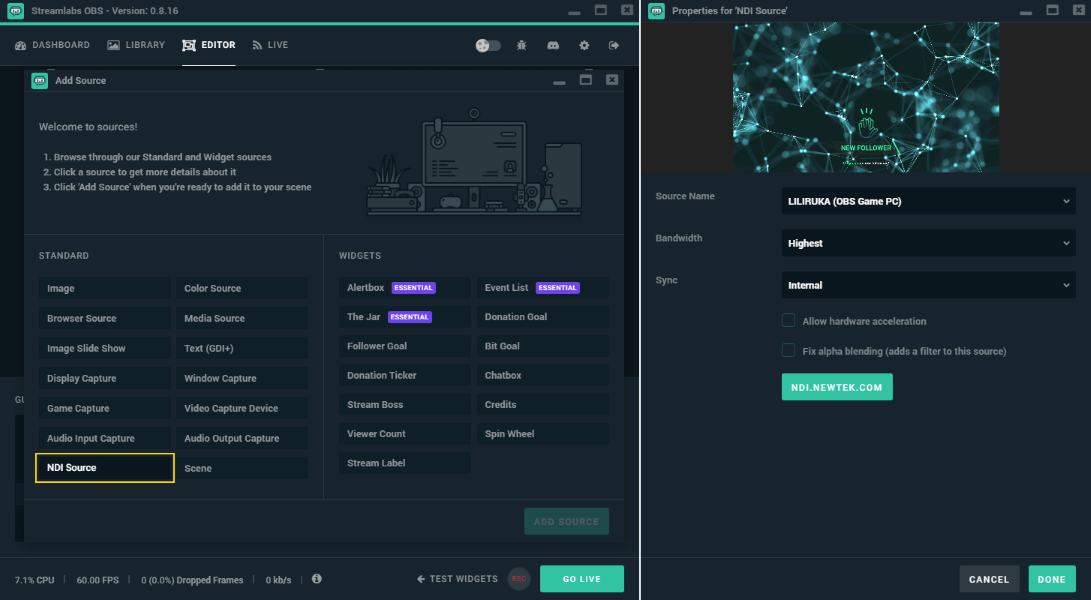 If you do not see NDI Source listed as an available source you have either not installed the NewTek NDI SDK 3 correctly or have rebooted the computer after installing the SDK.
Create NDI stream with OBS Studio
You can use OBS Studio on a computer to capture a game and other sources and send this out as an NDI stream with the OBS Studio NDI Plugin by Palakis. If you are installing this plugin without having the NDI SDK installed first, make sure to reboot your computer after installing the plugin.
Enable NDI Output
The first method is to create an NDI stream of the preview in OBS Studio containing all sources visible and a mixed final audio stream, basically the normal stream output, by enabling the NDI output via "Tools → NDI™ Output Settings". In here you can give the NDI stream also a name for proper identification of the NDI stream. This output does not contain any alpha-channel/transparency for use as an overlay.
Dedicated NDI Output
A second method is to set a "Dedicated NDI™ Output" as a filter to a source in OBS Studio to only create an NDI stream of that source. If the source contains audio, this will be transmitted as well. Unlike the main preview output, this method retains the alpha-channel/transparency if the used source contains this.
If you are using the Dedicated Output on a Browser source, to for example render alert and widget animations on another computer, do keep in mind due to the limitations of the Browser source that audio is not transmitted with it, so you'll need to patch this over via another method.
Create NDI stream with Scan Converter
NewTek NDI Tools found on the official website of NewTek contain various applications to test out NDI streams, but one application can be used to capture desktop or an application and send this as an NDI stream. The application of interest is called Scan Converter and can be found in the installed location.
Once it runs, it is a very lightweight application capable of capturing a selectable source via the right-mouse click menu of the Scan Converter application found in the system tray. You are also able to select an audio playback device from your computer to send that audio with the stream.
The Scan Converter is capable of 60FPS when "High frame-rate" is enabled.
Create NDI stream with vMix Desktop Capture
There is also vMix Desktop capture available from the creators of vMix that creates an NDI stream of every single open window and desktop available. You select which window or desktop you want as NDI stream in Streamlabs OBS rather than selecting in the application which to use.
Mobile Phone as NDI Camera
NewTek, the inventor of NDI, has also made an iPhone and Android app that allows you to turn your mobile phone into an extra wireless NDI camera, which you can use as an NDI source. You can find more information about this application and the purchase link to the respective stores at their NDI camera page. Other applications, from other developers, could be available that do the same or similar.