Media sharing allows you to interact with your viewers by letting them publish video clips directly onto your stream whenever they donate through your tip page. Note that in order to remain within the Terms of Service of your streaming platform, we recommend you review each video in the queue first, or get help from a mod to check videos submitted by your community.
Open Streamlabs OBS to get started, and head over to find the Media Share widget on your dashboard. The first thing you'll want to do is go to the upper right and switch this to "ON".
You will see a popup prompting you to choose between two experiences: defaulting to show or hide the videos. First we'll show you how to set up mediashare with Auto-Show, a mode ideal for streamers who have moderators to filter submitted content.
Next thing you'll see is price per second. This is defaulted to ten cents, so for every ten cents donated, one second of the submitted content will play. We'll leave this how it is.
Media share is a special event, so you may want to 'up' the amount donated in order for a viewer to submit a clip.
You might not want people to expect you to watch a very long clip that may be 3 or more minutes long, so you can set the max here.
Buffer time is the amount of time between videos, so if you have a queue of videos waiting to be played, you'll have a 5 second break between each one.
Spam security ranges from none to very high. This is a great way to prevent troll videos from being submitted, or limit your queue to only popular media.
In the Streamlabs OBS editor, go to sources and click the plus sign. Since Mediasharing has a widget URL, we will use a browser source, name it Mediasharing [name it], and add new source. Paste the widget URL, note any settings you may want to change, like FPS [change FPS to 60], and click "done". If you're using a different software to stream, the steps are very similar, you'd still be pasting the widget URL into your scene as a browser source.
Now we're ready for the fun part! When Mediasharing donations come in, the queue will be located in your Dashboard under "My Account", in a tab called "Media Share". Here you'll find the current queue, which--if 'play' is pressed--will play on your stream. You can toggle on show or hide video in the upper right, and also change the volume.
You can also check out the previous media tab if you missed something or want to watch a clip again.
At the bottom, "Pending media" is where videos will first appear when a donation is received, these are ready to be reviewed for appropriate content and approved before being added to the queue. This is a great task for a moderator to handle for you when you're focused on your stream, so we'll show you how to add permissions.
Under My Account, go to Shared Access and find the tab "Create Invitations" you can allow a trusted account to become a moderator or administrator. For media share they will need at least moderator privileges. Be sure that anyone you invite is someone you know personally and trust with managing your stream with you.
You're all set with advanced mediasharing! Now you're ready to laugh, cry, and cringe along with your viewers to whatever clips they want to share with you.
======
Where can your viewers go to donate to play a song?
It can be found on your donation page.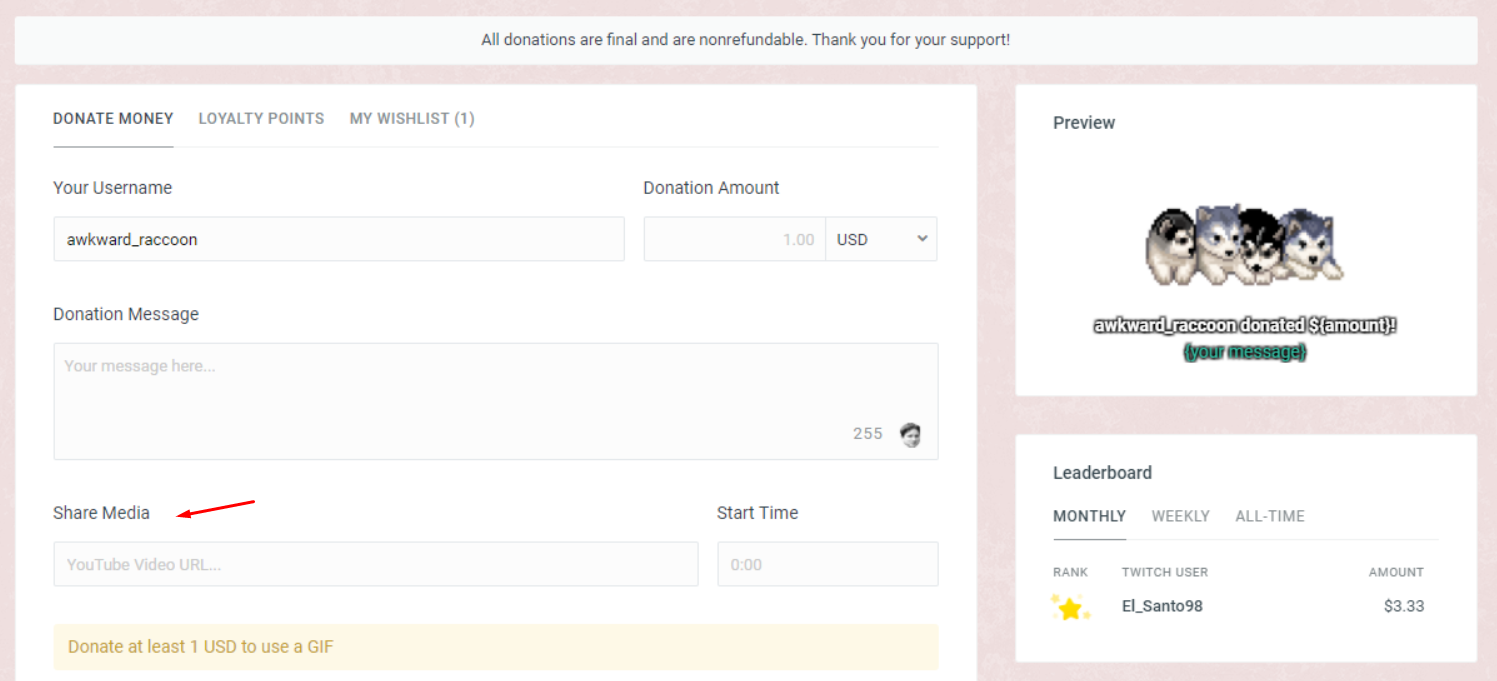 Questions?  Please submit a ticket or visit our Twitter.