Instagram is a powerful social media that has at least 1.45 billion users in April 2022 according to DataReportal, being one of the most active platforms. It isn't surprising more people create content around Instagram than ever, including short reels and live streams. We will cover how you can use Instagram to your advantage and how Talk Studio can help you.
How Instagram Works
Instagram gives you a lot of possibilities at the moment when it comes to video content. You can:
Post your video:
Instagram will allow you up to 60-minute video to be posted;
Video shouldn't exceed 3.6Gb;
You can display your video in 16:9 widescreen ratio (1920 x 1080p), a 4:5 ratio (1080 x 1350p) or a square 1:1 ratio (1080 x 1080p);
Recommended format is MP4 and H264 codec.
2. Create reels - short form content that has the following requirements:
Available for all the users and if your profile is public it will make reels available to the wider Instagram audience through the Explore section;
Video Aspect Ratio - 9:16 (1080 x 1920p);
Maximum Video Duration is 90 seconds.
3. Go live with Instagram Live - this lets you broadcast your video in a real-time mode;
Video Aspect Ratio - 9:16 (1080 x 1920p);
Max size is 4Gb;
Instagram lets you have up to 4 participants on screen simultaneously.
Ways to Grow using Instagram Videos
As we are in the video-first world and every brand growth is tied to social media presence, there's no doubt we should use all social media possible to build the presence around your brand regardless of what you do - create content and grow individually or help your business get to the next level. So how can you benefit from using all content forms on Instagram?
Post behind the scenes content with you preparing for the event or cooking and creating a mess in your kitchen - people want to see the real you! This will grow their interest to your content and products or service;
Want to build hype around your new podcast that is coming soon? Create a reel with highlights from the show to grow interest and drive extra traffic to your podcast before the drop;
Make demo videos or tutorials showing your expertise in a subject - it can attract people that want to learn more about what you do and how good you are at it;
Interact with influencers in your niche as well as with your audience on videos you're posting;
Meme culture - bring it back! We all want to be entertained and have a good laugh during the day. Having fun on videos will also be very beneficial to you - for example posting series of reels about day to day life of the artist with typical situations you are getting into will attract even more people that want to share these moments with you;
If you're posting videos in stories add some Q&A sessions, polls, Ask me Questions on a set date etc.
Be consistent with your content! It is hard to start but so worth it. Consistency in posting and aesthetics will create brand recognition as people will get used to your own touch and style.
How to go Live on Instagram
If you go live from your phone:
Go to your Instagram account;
Swipe right in the feed;
Pick Live from the at the bottom and tap the Live icon;
Set your live stream:
Select the Title,
Add Fundraiser (optional),
Pick your Audience - you can go live Public or in a Practice mode,
Or Schedule for later;
5. Go live! Number of viewers appear on screen as they join you there.
6. You can tap a comment or reply to your audience in a real time mode
Once you're done broadcasting you can save your video and toggle "Share your video for the next 24 hours so more people can watch it".
If you go live from the PC:
While it isn't yet possible to host lives on Instagram natively from your computer, there's couple options you currently have to connect and use. We will show you an example with a platform like Instafeed.me and Talk Studio:
To set up your RTMP for your Instagram stream, please:
1. Go to Instafeed and connect your IG account by logging-in;
2. From your Talk Studio, press Go Live and pick "Add Destination" - select Custom RTMP: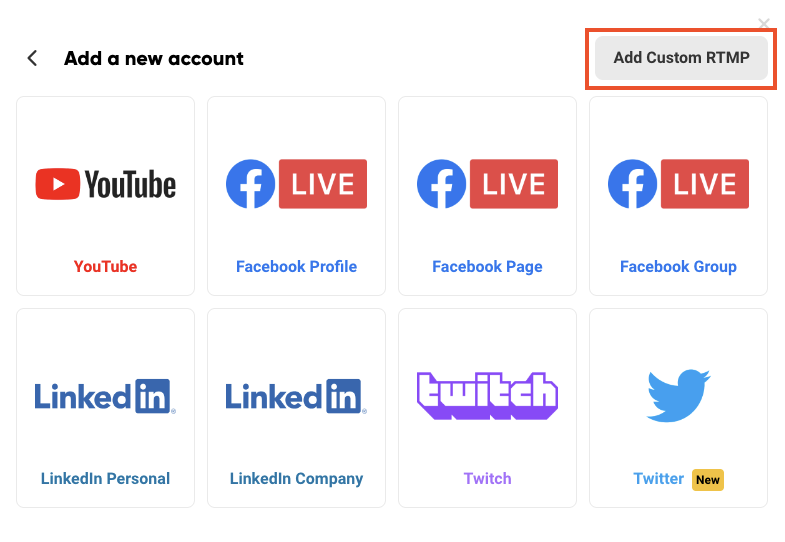 3. Name your Custom RTMP connection (for example, "Instagram Stream July 15") and insert RTMP URL link along with Stream Key that you can get on Instafeed
4. Enter the provided Instagram RTMPS Server URL and Stream key from here to Talk Studio:
5. On Instafeed, you will see a "no signal" preview first:
6. Once you go live on Talk Studio, it will show your preview here.
How Talk Studio Can Help
You may wonder: How would it affect my stream if the ratio on the desktop is different? Talk Studio has an answer to this: with Portrait mode streaming you can now select a mobile friendly layout and go live to platforms like Instagram or Facebook in 9:16 ratio (1080 x 1920p). This is how you can accomplish it:
1. Go to Talk Studio;
2. Add yourself and all the guests on the main screen, then click on the "Toggle portrait mode" icon you will see next to the layouts;
3. See the updated view:
That's it! Not only you can broadcast in mobile view but also record content with Talk Studio and post it later to Instagram or Tiktok for extra buzz across your social media pages for extra growth and engagement!
Benefits from using Talk Studio
When you use Talk Studio, you can take advantage of numerous features like:
Having up to 12 participants on screen supported with portrait mode;
Adding screen or video sharing;
Adding ticker, banner and other design elements to make your broadcast or recording more robust;
Stream to multiple destinations;
Record along with streaming in 1080p resolution for further content repurposing;
and more!
Have you tried it? Send us screenshots with your feedback at talkstudio@streamlabs.com - we would love to see how you use it!
Happy streaming and recording - now in mobile friendly mode,
Talk Studio team🍉